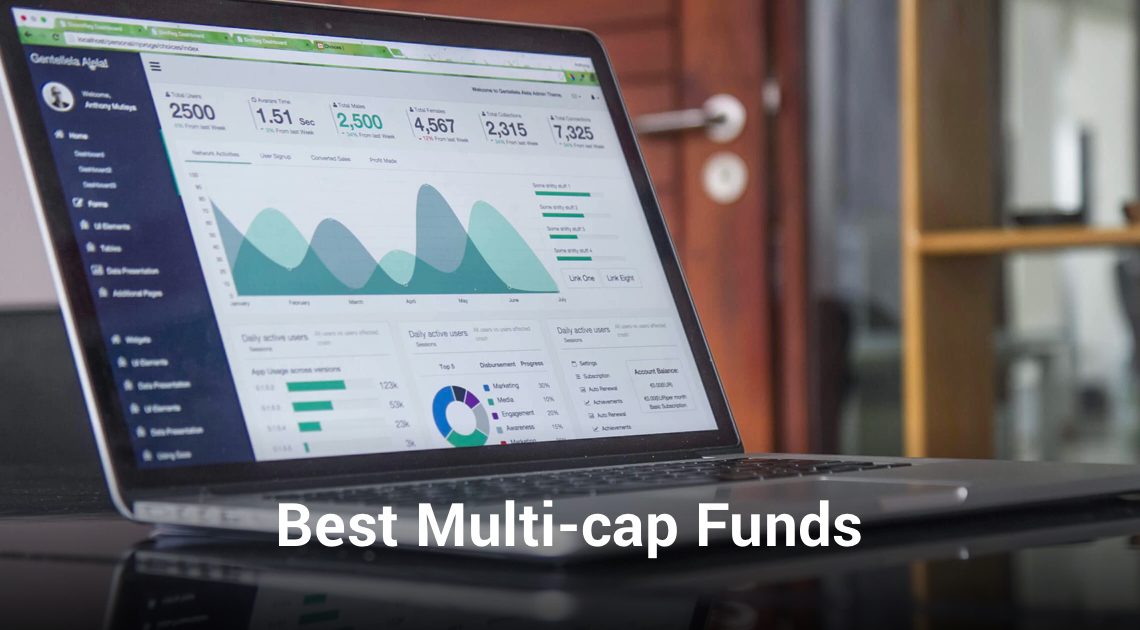 Multi-cap Funds are a special breed of equity mutual funds that invest across market capitalizations and market sectors. The new SEBI categorizations and rationalizations have made it difficult for mutual fund managers to take advantage of opportunities arising across market capitalizations and sectors, multi-cap funds have been able to mitigate these restrictions through their mandate. According to the mandate of multi-cap funds are allowed to invest in companies across market sectors and capitalizations and need to maintain a minimum of 65% invested in equity and equity related instruments.
Multi-cap Funds are suited to investors seeking long-term capital appreciation and have a high tolerance for risk. Multi-cap funds need to be actively managed to ensure they are taking advantage of market movements. These funds are considered risky as they invest in equity stocks of mid-cap and small-cap companies to take advantage of opportunities arising in these markets. If you have a strong, stable portfolio consisting of low-risk funds like debt funds or liquid fund and would like to take on a moderate amount of risk through exposure to equity stocks, multi-cap funds are a great option. Here is a list of the best Multi-Cap funds on the market:
 Mirae Asset India Equity
Risk: Moderately High
Minimum Lump Sum Investment: Rs. 5,000
Minimum SIP Investment: Rs. 1,000
Returns Since Launch: 15.56%
Exit Load: 1% for redemption within 365 days
The Mirae Asset India Equity Fund has proven its strength through consistently outperforming its peers and benchmark since its launch in April 2008. SEBI's mandated categorization of mutual funds has proven a hurdle to fund managers when it comes to generating consistent returns. Due to the stringent market capitalization definitions imposed by SEBI fund managers are having a tough time finding good opportunities within their mandates. This is why multi-cap funds are a good bet this season. As multi-cap mutual funds can take advantage of opportunities arising in across market capitalizations the Mirae Asset India Equity Fund has taken advantage of positive market cycles in the mid-cap and large-cap segments. The companies the Mirae Asset India Equity Fund invests in have good return ratios, strong balance sheets and are dominant in their industry. The trailing returns of this fund against its peers and its benchmark index have been provided in the table below.
| | | | | | |
| --- | --- | --- | --- | --- | --- |
| Trailing Returns (%) | 3-M | 6-M | 1-Y | 3-Y | 5-Y |
| Fund | 3.14 | -3.17 | 1.43 | 17.64 | 19.26 |
| NIFTY 200 TRI | 1.75 | -5.97 | 0.56 | 15.09 | 14.98 |
| Category | 1.5 | -7.56 | -4.5 | 12.91 | 16.17 |
Aditya Birla Sun Life Equity Fund
Risk: Moderately High
Minimum Lump Sum Investment: Rs. 100
Minimum SIP Investment: Rs. 100
Returns Since Launch: 22.92%
Exit Load: 1% for redemption within 365 days
The Aditya Birla Sun Life Equity Fund seeks to provide its investors with long-term capital appreciation through investments in equity stocks of companies across market capitalizations and market segments. The fund focuses 90% of its corpus towards equity and 10% towards debt and other money market instruments. Presently, the fund invests in 76 stocks across the large-cap, mid-cap and small-cap segments of the market. Approximately 70% of the fund is focused towards the large-cap segment, 25% towards the mid-cap segment and 5% towards the small-cap segment. The bias towards the large-cap segment makes this fund relatively stable when compared to some other multi-cap funds. While selecting stocks in the mid-cap and small-cap segments this funds looks for companies with sustainable business models that have good potential for growth. The Aditya Birla Sun Life Equity Fund is suited to investors who have a moderately high tolerance for risk and long investment horizons of at least 5 years. The trailing returns of the Aditya Birla Sun Life Equity Fund against its benchmark and peers has been provided in the table below:
| | | | | | |
| --- | --- | --- | --- | --- | --- |
| Trailing Returns (%) | 3-M | 6-M | 1-Y | 3-Y | 5-Y |
| Fund | 0.68 | -6.07 | -4.59 | 15.4 | 18.96 |
| NIFTY 200 TRI | 1.75 | -5.97 | 0.56 | 15.09 | 14.98 |
| Category | 1.5 | -7.56 | -4.5 | 12.91 | 16.17 |
Invesco India Contra Fund
Risk: Moderately High
Minimum Lump Sum Investment: Rs. 5,000
Minimum SIP Investment: Rs. 500
Returns Since Launch: 13.55%
Exit Load: 1% for redemption within 365 days
The Invesco India Contra Fund was launched on April 11th, 2007 by the Invesco Mutual Fund House. The fund has been a consistent performer and has outperformed its category and benchmark since 2013 by taking contrarian bets against the market. The Invesco India Contra Fund is a multi-cap fund that presently invests in 45 equity stocks across market capitalizations and market sectors. The fund focuses its investments towards large-cap companies with an allocation of approximately 68% towards this sector. It also invests in the mid-cap and small-cap sectors to the tune of 25% and 8% respectively. This fund's risk grade is below average and the return grade is above average. The Invesco India Contra Fund is suited to investors who are comfortable with taking on the risk of a fund that makes contrarian bets and have long investment cycles of at least 5 years. The trailing returns of the Invesco India Contra Fund against its benchmark and peers has been provided in the table below:
| | | | | | |
| --- | --- | --- | --- | --- | --- |
| Trailing Returns (%) | 3-M | 6-M | 1-Y | 3-Y | 5-Y |
| Fund | 0.76 | -8.27 | -3.91 | 16.38 | 20.87 |
| NIFTY 500 TRI | 1.29 | -6.88 | -1.84 | 14.75 | 15.27 |
| Category | -1.29 | -9.86 | -9.71 | 12.25 | 17.31 |
IDFC Core Equity Fund
Risk: Moderately High
Minimum Lump Sum Investment: Rs. 5,000
Minimum SIP Investment: Rs. 100
Returns Since Launch: 11.74%
Exit Load: 1% for redemption within 365 days
The IDFC Core Equity Fund was launched on January 1st, 2013 by the IDFC Mutual Fund House. The fund is a multi-cap fund that focuses its investments towards the large-cap segment of the Indian market. Presently, the fund invests in 71 stocks with approximately 55% of its corpus in the large-cap segment and approximately 46% in the mid-cap and small-cap segments. The fund carries an Alpa of 0.50 and a Beta of 0.92, the category average Alpha is -0.62 and the category average Beta is 0.94, this demonstrates the fund's capacity to generate high-than-expected-returns while mitigating risk. This fund is suitable for investors who are seeking long-term capital appreciation and have a moderately high tolerance for risk. The trailing returns of the IDFC Core Equity Fund against its category and benchmark have been provided below:
| | | | | | |
| --- | --- | --- | --- | --- | --- |
| Trailing Returns (%) | 3-M | 6-M | 1-Y | 3-Y | 5-Y |
| Fund | -0.61 | -8.55 | -6.36 | 15.3 | 15.24 |
| NIFTY 200 TRI | 1.75 | -5.97 | 0.56 | 15.09 | 14.98 |
| Category | 0.7 | -7.91 | -6.26 | 13.95 | 18.07 |
SBI Focused Equity Fund
Risk: Moderately High
Minimum Lump Sum Investment: Rs. 5,000
Minimum SIP Investment: Rs. 500
Returns Since Launch: 19.54%
Exit Load: 1% for redemption within 365 days
The SBI Focused Equity Fund was launched on October 11th, 2004 by the SBI Mutual Fund House. The fund has almost consistently outperformed its benchmark and category since 2007 and saw its best performance between March 2009 and March 2010. Presently, the SBI Focused Equity Fund invests in 24 stocks with approximately 56% in the large-cap segment, 22% in the mid-cap segment and 20% in the small-cap segment. The fund follows a growth style of investment while purchasing mid-cap and small-cap stocks, focusing more on the potential of these stocks to perform well in the future rather than their current market value. The fund carries an Alpha of 0.78 which is considerably higher than the category average of -1.35 and a Beta of 0.86 which is lower than the category average of 0.98, demonstrating the fund's capacity to generate higher-than-expected-returns while mitigating risk. This fund is suited to investors who have a moderately high tolerance for risk and a long investment horizon of at least 5 years. The trailing returns of the SBI Focused Equity Fund against its benchmark and category have been provided below:
| | | | | | |
| --- | --- | --- | --- | --- | --- |
| Trailing Returns (%) | 3-M | 6-M | 1-Y | 3-Y | 5-Y |
| Fund | 2.88 | -6.91 | -3.44 | 13.64 | 18.92 |
| NIFTY 500 TRI | 1.29 | -6.88 | -1.84 | 14.75 | 15.27 |
| Category | 1.5 | -7.56 | -4.5 | 12.91 | 16.17 |