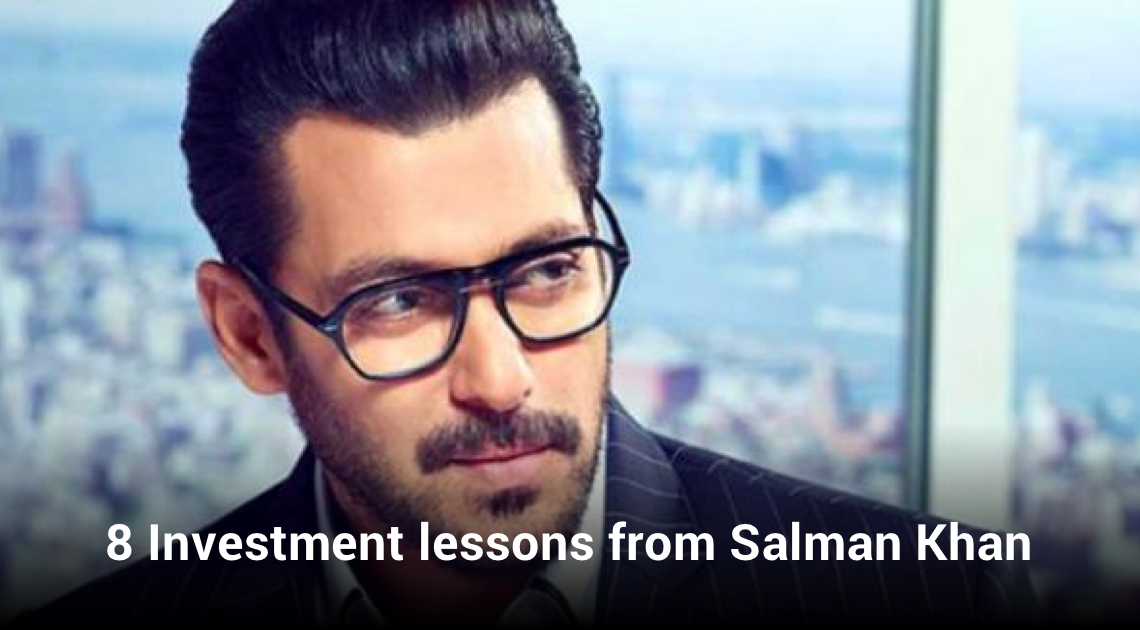 There are two things Indians love beyond comprehension or logic – First is Cricket and Second is Salman Khan Films. Bhai has become the most beloved and consistent actor Bollywood has ever seen in his almost 3-decade career. From a cute boy playing in romance movies when he started to the literal and figurative force to reckon with that he has become today, Salman is the epitome of perseverance and of why you should still hold on to that investment.
Here are 8 investment lessons we can learn from the one of a kind movie king:
1. "Dosti ki hai, nibhani toh padegi."
When you're making the commitment to invest- make sure you do your part before expecting any returns. As bhai says, the rule of friendship is to put in effort from your end. Similarly, the rule of investing is to make sure you have put in your effort- don't invest without doing your homework first.
Set your goals
Decide your investment mode, risk appetite, and amount.
Choose a fund that best meets your requirements.
2. "Mere baarein mein itna mat sochna. Dil mein aata hoon samajh mein nahi."
There are things that are best left alone. One such things is trying to time the market. It takes years upon years of research and experience to effectively be able to construct strategies to time the market- and even then, you can get it wrong sometimes!  So don't put your brain where you shouldn't, don't try to time the markets.
3. "Kaam hi meri pooja hai aur poja hi mera kaam."
Investing is money working to make money. Yes, you read it right. Investing basically means putting your money at work so that it works hard and earns more money. So, Investment hi meri paisa hai aur paisa hi meri investment!
4. "Mujhpe ek ehsaan karna, mujhpe koi ehsaan mat karna."
Never invest with borrowed money. However attractive may it sound at the moment, using leverage has a decent chance of getting into a spiral of problems.
5. "Ek baar maine commitment kardi toh phir mein apne aap ki bhi nahi sunta."
Markets are volatile and your investment will go through a world of ups and downs- but you need to keep all emotions aside and stick to your investment decisions. Investing is a disciplined pursuit. Should you fancy reaping the best it can offer, it requires your time, effort and conviction at all times.
6. "Aaj kal darwaaze pe knock karke aane ka zamaana nahi raha"
Opportunity never stays over for a knock. Be swift, hawk-eyed and ajar to every opportunity that passes by to get hands onto it. A good investment is a matter of chance. If you are vigilant enough, you will be lucky enough. If not, darwaaze pe knock nahi hogi!
7. "Agar tum mujhe yuhin dekhti rahi to tumhe mujhse pyaar hojaega"
Isn't that the case with us all? The more we pursue investments, the more we want to do. It is truly an addiction which knows no bound. A good addiction, after all, it is making you all the fortune. While we track the market progress, it has high odds-on that we increase our investment ratio and spread more love!
8. "Zindagi mein teen cheezein kabhi underestimate nahi karna- I, Me, Myself"
And finally, the concluding dialogue; Never underestimate the power of being! Being dynamic, being conducive, being versatile, being viable and so on… this is all investment envelopes within.