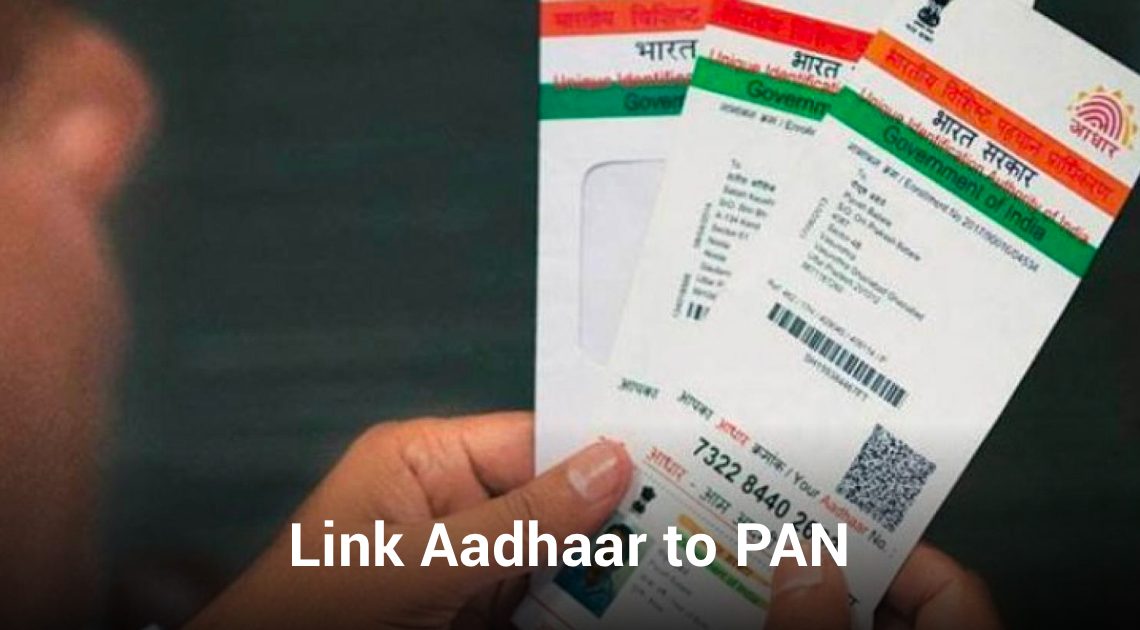 On the 26th of September 2018, the Supreme Court passed a verdict making it mandatory to link your Aadhaar to you PAN to file for Income Tax Returns. The last date to link your Aadhaar to your PAN is 31st March 2019. The move has been taken to streamline the Income Tax evaluation process through a centralized database for the purpose of authentication. The Government has made it quite easy for people to link their Aadhaar to their PAN utilizing two mediums, the Internet and SMS. Below are both methods to link your Aadhaar to your PAN in detail.
1. Linking Aadhaar with PAN Online
Step 1: Visit the Income Tax Department's e-Filing Website and click on the "Link Aadhaar" tab on the left side of the page.
Step 2: You will be redirected to a page where you will be required to provide your:
PAN

Aadhaar Number

Name as per Aadhaar
You will need to agree to validate your Aadhaar details with UIDAI.
2. Registering for e-filing of Income Tax
Step 1: On the top right side of the Income Tax Department's e-Filing Website you will find the option "New to e-Filing? Register Yourself" click on this option
Step 2: You will be redirected to the registration page where you will need to provide Personal Details:
PAN (This will become your User ID)
Surname (This is a mandatory field)
Middle Name
First Name
Date of Birth DD/MM/YYYY
Residential Status
Step 3: After providing your Personal Details you will need to create a Password for your account. You will need to:
Create Password
Confirm Password
Please note: The password has to be at least 8 – 10 characters long with one uppercase, one number, and one special character.
In case you forget your password you will need to answer two secret questions to be able to reset it. You will now need to set these secret questions and answers. Select a question to which the answer is easy to remember.
Step 4: In this step, you will need to provide your contact details like:
Primary Mobile Number
Primary Email ID
Step 5: Address Details
Floor/Flat/Building
Road/Street Name
Pincode
Area/Locality
Post Office
District/City
State
Once you have provided all these details you will be redirected to a page where you will need to authenticate your mobile number and email address through an OTP sent to both of them.
Enter the OTPs and you will complete your registration.
Now you may return to the homepage and log in on the right side of the screen from the "Registered User? Login Here" button.
The User ID will be your PAN. This is not case sensitive so you can enter this in lower case
Enter the password you set earlier. This is case sensitive.
3. Link Aadhaar to PAN via SMS
The Income Tax Department has also developed an offline mode to link your Aadhaar to PAN:
Step 1: Send an SMS in the following format: UIDPAN<SPACE><12 digit Aadhaar><SPACE><10 digit PAN>
For example, if your Aadhaar is 1234 5678 9101 and your PAN is ABCDE1234F the SMS will be
UIDPAN 123456789101 ABCDE1234F
Step 2: Send this SMS to 567678 or 56161
SMS charges will be levied by the network operator.