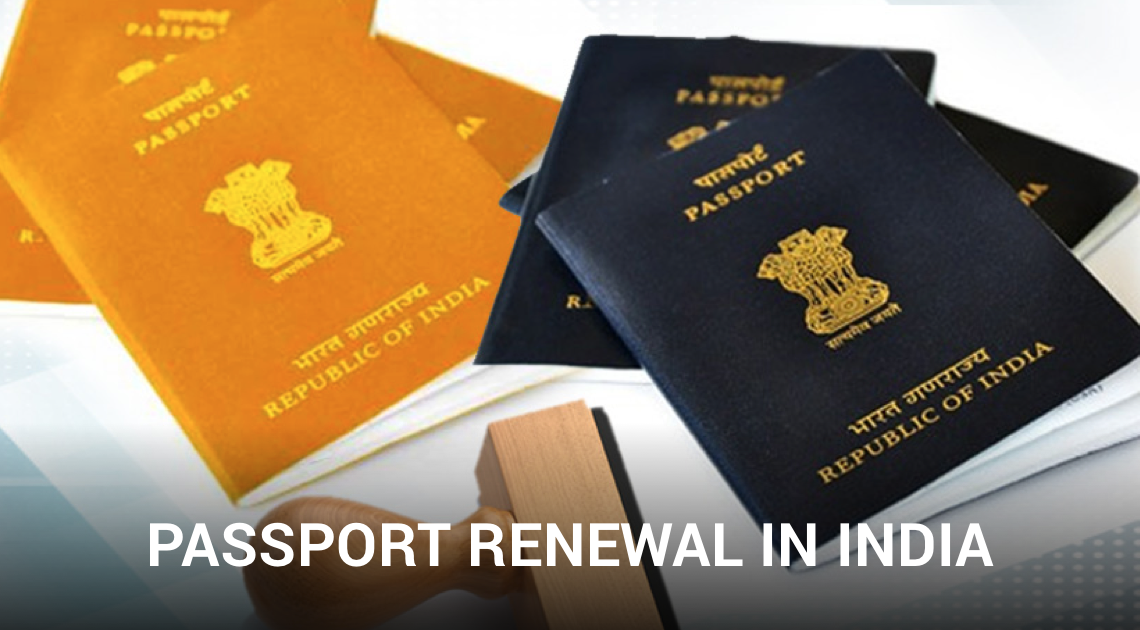 Passport renewal is one thing most of us tend to forget, especially if we are not frequent travelers. Since it is almost March and most of us are planning a vacation, renewing your passport is important to avoid any last-minute hassles.
Traveling abroad with family or alone requires a passport. Passport also serves as POI (Proof of Identity) and POA (Proof of address). You can apply anytime for a passport once you have all the required documents. An Indian passport stays valid for a time period of 10 years after which it needs to be renewed.
RENEWAL PROCESS
Passport can be renewed in two ways- offline and online depending on convenience.
PASSPORT RENEWAL ONLINE
Online process mandatorily requires one to have an online account on the official website of Passport Seva. First and foremost the registration is required by the user. In case you don't have one, follow these steps:
Step 1: If you are an existing user, log in to the account through 'Existing User/Login'.
Step 2: If you do not have an account then create one through 'New User/Register Now'.
Step 3: Select the closest passport office to your present address.
Step 4: Enter your personal information like Name, Address, Date of Birth etc.
Step 5: Enter and create your User ID and Password for the passport online account.
Step 6: Fill in a 'Hint Question' in case you forget your password and register for the account.
Step 7: Once the registration is complete, you will get an activation mail on the given email address. Follow the link in order to complete the activation.
Step 8: Login through the activated account on the official Passport Seva website and go to 'Apply for Fresh Passport/Re-issue of Passport'.
step 9: Select the re-issue option and start filling the application form
FILLING THE APPLICATION FORM
The application form for renewal is quite descriptive. It would require you to fill in details like
Name

Address

Details of spouse

Details of children
Another important component of the form is two local references for police verification.
Once the details are furnished, click 'Validate', enter your city or village and save the form. This file needs to be uploaded on the same page it was downloaded from.
Uploading the file auto-fills the details into the form. Once uploaded, cross-check and verify the provided details.
SLOT BOOKING TO GET RENEWED PASSPORT
Once the form is submitted, the next step is to book a slot to schedule the interview.  Click on 'Schedule Appointment' to fix one and select among the available slots to do so. You will get a confirmation of the scheduled appointment at the nearest Passport Seva Kendra.
PASSPORT OFFICE VISIT FOR RENEWAL
The day of the appointment, visit the passport office where you will be allotted a group number. A group of nearly 10-15 people is sent in one slot. Mention your group number on your form. Once it is your group's turn, do as instructed and complete the application process. Once successfully completed, the change in validity will be done.
DOCUMENTS REQUIRED
The passport renewal requires a list of supporting documents which are mentioned on the website under the 'Document Advisor' section.  Following are some of the documents required while getting your passport renewed;
Original passport

First-two and last-two pages copy of the original passport; self-attested.

ECR/Non-ECR page copy; self-attested.

Any document(s) affecting the issuance of SVP (Short Validity Passport)
RENEWAL OR RE-ISSUANCE- THE DIFFERENTIATING FACTORS
You can go for renewal in case validity is the concern regarding your current passport. If you get your passport renewed, you are handed-over the same passport with extended validity whereas, in case of re-issuance, a new passport is provided. A passport is re-issued in case;
You have lost it

The passport is soiled or damaged

Already expired or about to

Pages have been exhausted

Any change in details
SHORT VALIDITY PASSPORT (SVP)
An SVP is a passport which is issued for a very limited period. It is issued in the following cases:
To appear for an exam like TOEFL, SAT etc.

NRIs traveling to India

Passport lost in transit/ Non-delivery

Pending criminal court case of the applicant
FEE AND VALIDITY OF SVP RENEWAL
The SVP renewal is free of cost. As far as the validity of an SVP is concerned, it depends completely on the discretion of the officer handling your case. Although the maximum validity an SVP can hold is 10 years.
FAQs REGARDING PASSPORT RENEWAL
Q1.  I recently got my passport renewed, when is the next renewal due?
A passport stays valid for a maximum of 10 years. It depends totally on your RPO or APO to decide how much to grant to you.
Q2. Is a third-party agent needed for passport renewal?
If you can read and write, there is no requirement for an agent.
Q3. Do I need to re-submit my original documents?
No, only self-attested copies of the original documents are needed. While it is advisable to carry the originals along for verification.
Q4. I filled in some wrong information by mistake, how do I correct it?
This is one glitch in the online form filling, you cannot make changes once the form is submitted. You need to visit the Passport Office in order to get the form corrected.
Q5. What is the fee for renewing passport?
A renewed passport with 10 years validity costs Rs. 1500. Depending upon the validity you have been granted, your fees may vary.