We have launched a new referral program which is one of a kind. You will not only get rewards for referring your friends but you can also increase your earning on each referral by activating boosters (explained below). Let's get started and see how new Piggy referral works.
Step 1) Invite a friend to piggy
Invite friends to piggy and get cash rewards up to Rs. 2,000 per invite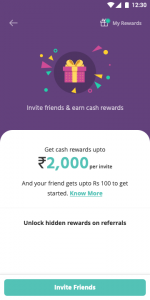 Step 2.a) Friend Completes Profile
Your friend completes profile by providing all the necessary details for it.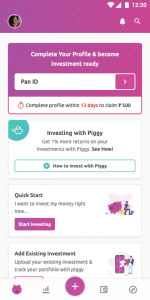 Step 2.b) You and your friend get Welcome Gift Card
Once your friend completes profile. You and your friend will get a welcome gift card (red colour) worth up to Rs 100.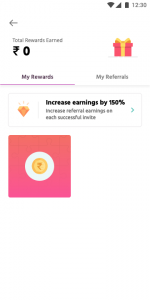 Step 2.c) Redeem Welcome Gift Card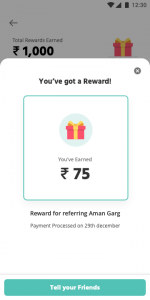 Note:  If you are a 1st-time investor (non- KRA Verified) your profile verification will take 1-2 working days but if you are not a 1st-time investor (KRA Verified) profile verification will take 2-3 hours. Your Reward Cards will be generated post profile verification.
Reward earned will be transferred to the bank account registered with piggy within 1-2 working days.
Step 3) Friend makes 1st Transaction:
You will get a Successful Invitation card when your friend makes 1st transaction with piggy (Green Color)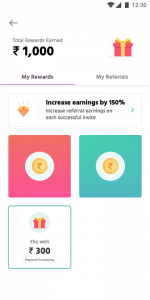 Before redeeming successful invitation card activate boosters to earn more
Step 4.a) Go to referral booster screen
You can increase earnings on successful completion card by completing actions shown on the screen. Initially, only 3 boosters are visible but once you activate any one booster more boosters will open.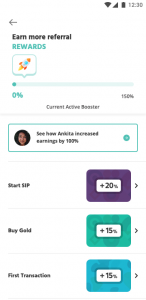 Step 4.b) Activate Boosters

Once you activate a booster, "Activated" tag will appear on that booster card and Current Active Booster Progress bar will increase accordingly. You can activate multiple boosters at a single time to get maximum benefits.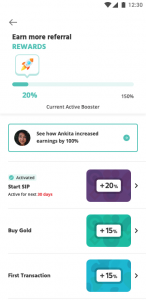 The booster will remain active for a specified duration and will be applicable to all the successful invitation cards earned during this time i.e. if you get 15 successful invitation cards ( by successfully referring 15 friends) boosters will increase earnings on each of these cards. Provided you redeem them when boosters are activated.
Note: Boosters will increase earnings on successful invitation cards only. It is not applicable on profile completion cards.
How Boosters will increase earnings
Let's assume you get a 50% boost on your earnings by activating 3 boosters and you got Rs 600 as a reward. Now because you have 50% booster active you will get Rs 900 instead of Rs 600. Additional Rs 300 is because of active boosters.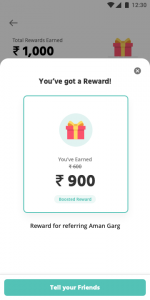 You can increase your earnings by 150% by activating all the boosters. If you do not activate booster and redeem Successful Invitation Card you will get rewards upto Rs 2000.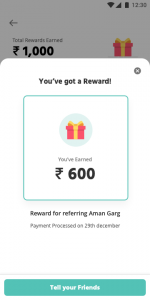 please note: all images are for illustration purposes only.